Clinical Nutrition at Complete Care Health – Maddington
What is Clinical Nutrition?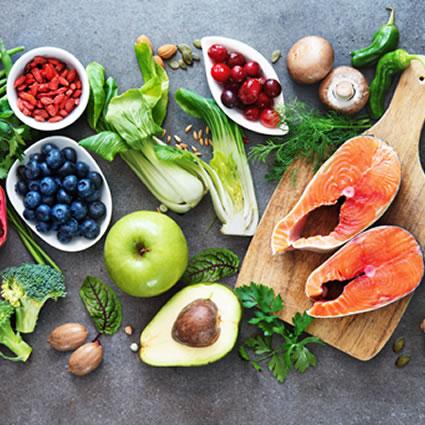 Clinical Nutrition is the thorough examination of your diet with the help of a qualified specialist that can identify a number of different problems caused by what you eat.
Essentially, food is fuel and what you chose to fuel your body with affects how your body performs. If what you put in isn't giving you the energy you need, or having the wrong effect on your body, maybe what you eat and drink needs changing. With the help of a Clinical Nutritionist, they can help you identify what's working, what isn't and what to change to make you feel your best.
How does it work?
The Clinical Nutritionist will discuss with you in detail the reason for your treatment, identify health concerns or goals and work with you towards achieving them. She can request tests for things such as food intolerance, blood work etc. or speak to your GP about suggested treatment plans. Together with the Clinical Nutritionist you will develop a personalised diet taking your specific needs and goals into consideration and manage change slowly.
What can a Clinical Nutritionist treat?
A Clinical Nutritionist can treat a wide variety of food and health issues including (but not limited to):
Manage high blood pressure
Manage Type 2 Diabetes diets
Gastric sleeve diet management
Manage high cholesterol
Identify nutrient deficiencies
Manage digestive issues like IBS (Irritable Bowel Syndrome)
As well as offering help, advice and support for other health problems such as:
Weight loss
Identify allergies and food intolerances
Support immune function through nutrition
Identify & manage nutritional needs throughout life (children, teens, during pregnancy/lactation, post-surgery and seniors)
Improve sleep issues, stress, fatigue and overall health through food
What happens during an appointment?
During your first appointment, you will talk to the Clinical Nutritionist about reasons for coming to an appointment and setting goals. Each person's nutritional needs are completely individual to you, your body and how you live your life. The Clinical Nutritionist will discuss other factors in your life that might affect your diet such as environmental, social and physical.
During a follow-up appointment, you might discuss food diary management, review any arranged tests, be given information about how certain foods affect your body specifically and manage changes to your diet in a controlled way.
Book an Appointment
Clinical Nutrition appointments are also available via telehealth video appointments. Please specify with reception when booking by phone or select "Telehealth" appointment type when booking online.
If you want to know more, call and speak to our friendly receptionists or book online to make an appointment. Appointment prices can be found fees page.

Clinical Nutrition in Maddington, Thornlie, Gosnells, & Kenwick WA | (08) 6161 2793